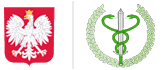 Główny Inspektorat

Weterynarii
https://www.wetgiw.gov.pl/english/travelling-with-pets-after-brexit-31102019
Travelling with pets BREXIT
After the end of the transitional period (1.02-31.12.2020) the United Kingdom became a third country from 01.01.2021. All rules for movement of dogs, cats and ferrets from UK to EU are available on GVI website. 
Pet travel from 1 January 2021
More information concerning movement of pets from non-EU countries to EU is available on the European Commission website.